Biography of Lance Corporal John Joseph Haddon (25353)
35th Battalion, Machine Gun Corps (Infantry)
Formerly 38727 Notts and Derby
Died 25th March 1918
Soldier
Name: John Joseph Haddon
Date of birth: 1896
Place of Birth: Witham on the Hill, Lincolnshire, England
Date of Birth Registration: October – December 1896
Place of Birth Registration: Bourne, Lincolnshire, England
Father
Name: James Haddon
DOB: 1865
Place of Birth: Baston, Lincolnshire, England
Occupation: General labourer
Mother
Name: Sarah Ann Hare
DOB: 1868
Place Of Birth: Haconby, Lincolnshire, England
Marriage: 29th October 1888 Morton, Lincolnshire, England
Siblings: (Name), (DOB), (POB)
Jane Haddon, 1889, Manthorpe
James William Haddon, 1891, Manthorpe
Mary Elizabeth Haddon, 1894, Manthorpe
John Joseph Haddon, 1896, Witham on the Hill
Winifred Sarah haddon, 1903, Toft
George Pope Haddon, 1906, Toft
Florence Mabel Haddon, 1908, Toft
Census
1901: John is living with his parents in Toft, Lincolnshire.
1911: John is living with his parents at Toft, Lincolnshire. The census gives him an age of 14 and he is listed as a farm labourer.
Relatives in services
John's brother James also fought in WW1 in the Lancashire Fusiliers but came home.
Marriage
No marriage for John has been found and because of his age we can assume that he never had the opportunity to marry.
Newspaper Mentions
Grantham Journal Saturday 6th April 1918
DEATH OF A TOFT SOLDIER – Mr and Mrs Jas. Haddon of Toft, received notification on Saturday last that their son, Lance-Corpl. Jack Haddon had died in hospital in France. Earlier in the week an intimation came that he was seriously ill, but there was nothing to indicate that a fatal result was anticipated. The news was a great shock not only to his parents, but also to the large circle of friends. Deceased was formerly employed int the gardens at Withal Hall and on joining the forces, became attached to the Machine Gun Corps. A Khaki wedding (deceased's sister being the bride) arranged to be held on Easter Monday, was carried through, as the bridegroom was home on leave from Italy, but a gloom was naturally cast over the whole proceedings. In consequence of the death of Lance-Corpl. Haddon, a whist drive and dance arranged to be held at Witham on the Hill on Easter Monday was postponed.
Soldier's Died In The Great War
These records show that Private John Joseph Haddon, 25353, Infantry Bn Machine Gun Corps was killed in action on 25th March 1918 in the Western European Theatre in France and Flanders.
Medals
The British Medal
The Victory Medal
Memorials
Commonwealth War Graves Commission:
In memory of Lance Corporal John Joseph Haddon, 25353, 35th Bn., Machine Gun Corps (Infantry) who died on 25 March 1918 Age 22
Son of Mr. and Mrs. J. Haddon, of Toft, Bourne, Lincs.
Remembered with honour, Mendinghem Military Cemetery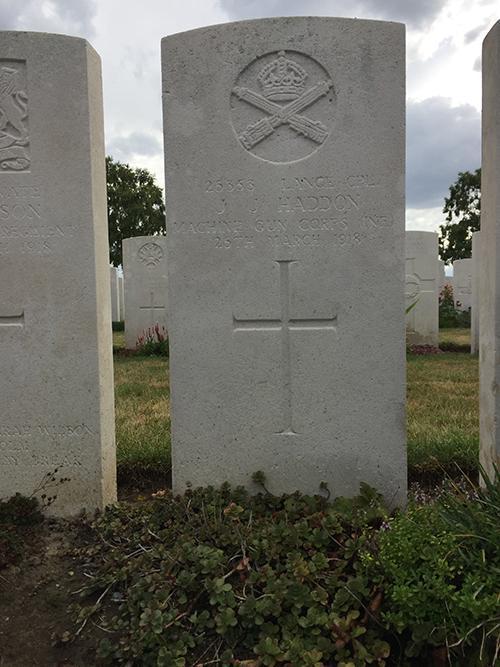 © Picture taken by South Lincolnshire War Memorials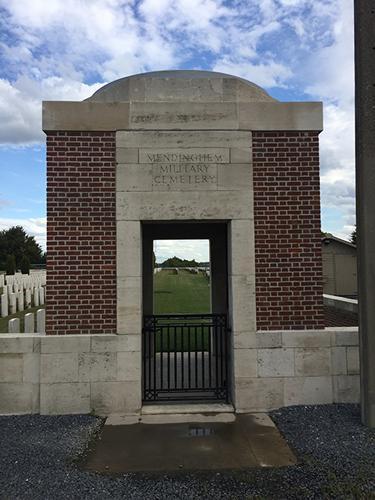 © Picture taken by South Lincolnshire War Memorials
Military Service Timeline
This is ongoing research and will be posted when completed
Sources
WW1 Soldier's Records (www.ancestry.co.uk)
Commonwealth War Graves Commission
British Newspaper Archive.