Biography of Private Charles Ernest Wells (26285)
8th Battalion North Staffordshire Regiment
Formerly 1st Battalion North Staffordshire Regiment
Died 10th April 1918
Soldier
Name: Charles Ernest Wells
Date of birth: 1884
Place of Birth: Byfleet, Surrey, England
Date of Birth Registration: January – March 1884
Place of Birth Registration: Chertsey, Surrey, England
Father
Name: James Wells
DOB: 1842
Place of Birth: Manthorpe, Lincolnshire, England
Occupation: Road labourer
Mother
Name: Mary Ann Smith
DOB: 1850
Place Of Birth: Uffington, Lincolnshire, England
Marriage: 6th July 1874 Witham on the Hill, Lincolnshire, England
Siblings: (Name), (DOB), (POB)
Arthur Edward Wells, 1875, Manthorpe
Sarah Elizabeth Wells, 1877, Byfleet
George Thomas Wells, 1878, Byfleet
James Warren Wells, 1879, Byfleet
Henry Frank Wells, 1882, Byfleet
Charles Ernest Wells, 1884, Byfleet
Robert Moysey Wells. 1887, Byfleet
Frances Mary Wells, 1889, Walton
Frederick William Wells, 1891 Thurlby
Emma Eleanor Wells, 1893, Manthorpe
Census
1891: Charles is living with his parents in the High Street, Thurlby, Lincolnshire.
1901: Charles is living with his parents in a cottage (Toll Bar) in Manthorpe, Lincolnshire.
1911: Charles is living with his parents at the Cross Roads Cottage, Manthorpe, Lincolnshire. The census gives him an age of 26 and he is listed as a farm labourer.
Wife
Name: Nellie Fulcher
Date of birth:
Place of Birth:
Marriage
Date of Marriage: 1916
Place of Marriage: Guisborough District
Newspaper Mentions
Grantham Journal 15th June 1918
KILLED IN ACTION
WELLS – Killed in action, April 10th, Charles Ernest Wells. fourth son of James Wells, Toll Bar, Manthorpe, Bourne, aged 34
Soldier's Died In The Great War
These records show that Private Charles Ernest Wells, 26285, 8th Bn North Staffordshire (Prince of Wales's) Regiment was killed in action on 10th April 1918 in the Western European Theatre in France and Flanders.
Pension Records
Effects Left To
Medals
The British Medal
The Victory Medal
Memorials
Commonwealth War Graves Commission:
In memory of Private Charles Ernest Wells, 26285, 8th Bn., North Staffordshire Regiment who died on 10 April 1918 Age 34
Son of James Wells, of Cross Rd. Cottage, Manthorpe, Bourne, Lincs.; husband of Nellie Wells, of 19, Thornhill Rd., Marsh, Huddersfield.
Remembered with honour, Tyne Cot Memorial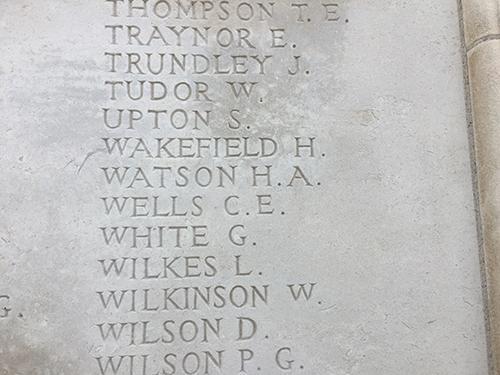 © Picture taken by South Lincolnshire War Memorials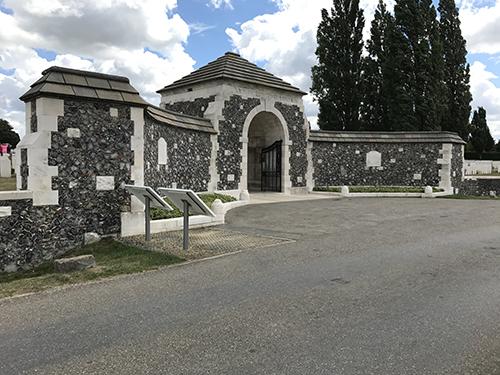 © Picture taken by South Lincolnshire War Memorials
Military Service Timeline
On the 6th June 1916 Charles was called up for service and attested at Grantham. His given age was 31 years and 123 days and occupation was a Carter.

On enlistment he joined the North Staffs Regiment, and was immediately transferred to the 4th North Staffs. 3 days later he was Posted as Pte to 11th Bn North Staffordshire Regiment.

on the 11th June Charles completes his enrolment papers and these give his address as 26 Wharf Road Stamford. To the question of if you have any preference of service he answers, transport driver.

Four months after enlisting Charles married Nellie Fulcher at the parish church in Marsh in Cleveland, Huddersfield, Yorkshire on the 29th October 1916. At the time Nellie's address was given as 14 Temple Street, Templeborough near Sheffield.

Only four days after getting married, 8th November, Charles' home service ends and the next day he is posted to the 8th Battalion, North Staffordshire Regiment and embarks for France. On arrival in calais Charles is immediately posted to the 1st Battalion North Staffordshire Regiment

The next entry we find for Charles is when he is admitted to a Field Ambulance on the 1st February 1917. The next day information is received from the 73 F.A. thatCharles has been admitted for Furunculosis.
Four days later and Charles is on an Ambulance Train and then on the 6th February he is admitted to the 3rd Canadian general Hospital in Boulogne for "Boils" (Furunculosis) and the on the 8th admitted to the 25 general hospital in Hardelot.

After recovering in hospital Charles is received back from hospital into 12th Brigade at Calais on the 17th March and on the 26th joins his battalion in the Field.
Over the next few months the 1st battalion is involved in the battles of Arras (Vimy Ridge) in April and then on to Belgium for June when they are involved in the Battle of Messines ridge.

On the 26th July 1917 Charles is once again admitted to Hospital, this time the 55th Hospital in Boulogne for "Boils".
He is moved around between general depots during August and eventually his records show that he returns from hospital on the 31st of August 1917.
One week later he is posted to the 8th Battalion North Staffordshire Regiment who are in camp at Bellebrune east of Boulogne.

In September the Battalion is moved to Westoutre on the France Belgium border between Balieul and Poperinge and commences many days of practice manoeuvres before entering trenches around Hill 60 on the 19th September. This is in preparation for the following days and the Battle of the Menin Ridge, part of the 3rd Battle of Ypres, also known as the battle of Passchendaele.
The Battle of Passchendaele over the next 2 months included the battles of Polygon Wood, Broodseinde and Poelcapplle, before eventually in October the main Battles for Passchendaele started.
During this time the Battalion wee in and out of trenches in the sector before Passchendaele was taken on the 6th November.
The battle of Passchendaele was officially over in November and on the 23rd November Charles was granted leave.

The Battalion moved to Campagne south east of St Omer and were out of the line for the beginning of December before being moved to Etricourt Trenches and Nine wood on the 8th December, moving between here, the Hindenburg Line and Havrincourt for the rest of December and January.

On the 19th January 1918 the battalion were in the front line near to Ytres and Havrincourt. They were routinely going in and out of the trenches and on the 19th they were moved into support to the right sector at Wood Trench.
On day later on the 20th they were relieved by he 8th Gloucestershire regiment and then moved back to Eastwood camp in Havrincourt Wood.
On the 20th Charles was admitted to hospital with a shotgun wound to the arm. Three days later he arrived at the 10th general Hospital in Rouen for further treatment to the shotgun wound.

Charles could not have been back in the lines for long after his wound when on the 13th February he was admitted to a casualty clearing station with gun shot wound. This time he stayed 8 days in hospital and discharged on 21st February 1918.

On leaving hospital Charles was granted furlough and whilst on leave his address was entered as Crossroad Cottage, Manthorpe near Bourne, Lincs and the furlough record shows that he is now considered as fit for duty.

The 2nd March saw the end of Charles' furlough and he was posted to the 3rd Battalion North Staffordshire Regiment, possibly at Wallsend, to await further orders. The regiment dispatched his occupation card on the 27th March and by the 4th of April Charles was to rejoin the BEF in France, embarking and disembarking on the 5th April.

Two days later, 7th April, and Charles was being posted back to the 8th Battalion, B company, of the North Staffordshire Regiment who were now in Wulverghem on the Messines sector of the line.

The Battalion Diary has the following entries:-

9th April 1918- Wulverghem
Orders for relief of the 8th Glosters in right sector which was to take place that night were cancelled at 12 noon and Battalion ordered to stand by ready to move at short notice. Later news was received that the enemy had broken through on the Laventie front and 19th Division was ordered to concentrate in Ravelsberg area.
Major Martin went to Divisional Headquarters liaison officer, but later the CO was sent forth command the 56th Brigade and Major Martin was recalled to command the Battalion

10th April 1918 – Wulverghem
Operational orders were issued at 3am for the Battalion to move off to Aldershot Camp at 5:15am but about 4am news came through that the enemy was attacking on our front and Battalion was ordered to stand by awaiting further orders.
57th Brigade issued orders for two of our companies to move up at once and occupy the corps front and support lines in front of Messines and A & B Companies moved off to do so. B- Front Line, A- Support.
The enemy however by this time occupied the Eastern edge of Messines and these two companies after making a very good attempt to get through the village were obliged to occupy O.G front line in T.6.b and Battalion Headquarters was established in dug out at T.6 C4.b
Situation on flanks was obscure and about 2pm C & D Companies moved up into line, and position from R to L was roughly C.A.B.D with centre on road at Hospice which situation remained the same throughout the night. A S.A. Brigade counter attacked Messines at about 7pm with success but was unable to hold on and withdraw to our line.
On this day the Battalion suffered heavy casualties – Captaincies Meir & 2nd Lt Lucas being killed and Lt Deane, Shopley & Wake wounded & about 150 other ranks killed and wounded.

On the 11th and 12th April the Battalion and the whole line withdrew back and were ordered to hold a line north of Lindenhoek.

Private Charles Ernest Wells was killed in action on 10th April in the action we have just had described to us in the Battalion Diary, only three days after being posted back to his Battalion.

An entry in the killed in action section the Grantham journal on Saturday 15th June 1918 reports:
WELLS – Killed in action, April 10th, Charles Ernest Wells, forth sonf James Wells, Toll Bar, Manthorpe, aged 34.

Th official military records do not end yet and Charles effects are ordered to be dispatched to Mrs Nellie Wells of 19 Thornhill Road, Marsh, Huddersfield.

on the 5th November 1918 the Ministry of pensions writes to Mrs Wells to say that she has been awarded 13/9 per week as a widows pension. When Charles was serving Nellie was receiving 9/- weekly as a separation allowance and 3/6 as an allotment of Charles' pay.

Move on to 1919 and the medals rolls note Charles wells as:-
26283. 8/N.Staff.R.
Pte
26283. 1/N.Staff.R.
26283. 8/N.Staff.R.

Charles is awarded the British War Medal and Victory medal and Nellie signs for receipt of these medals on 4th November.

Charles is commemorated on Tyne Cot memorial to the missing of the Ypres Salient, panel 125a.
This is ongoing research and will be posted when completed
Sources
WW1 Soldier's Records (www.ancestry.co.uk)
Commonwealth War Graves Commission
British Newspaper Archive.