Biography of Private Leonard Brutnell (41595)
9th Battalion Yorkshire Regiment
Formerly 32264 13th Yorkshire Regiment
32264 11th Reserve Cavalry
Died 7th February 1917
Soldier
Name: Leonard Brutnell Sandall
Date of birth: 1898
Place of Birth: Thurlby, Lincolnshire, England
Date of Birth Registration: January – March 1898
Place of Birth Registration: Bourne, Lincolnshire, England
Father
Name: John Richard Brutnell
DOB: 1873
Place of Birth: Kiesby, Lincolnshire, England
Occupation: Jobbing gardener
Mother
Name: Mary Jane Sandall
DOB: 1875
Place Of Birth: Thurlby, Lincolnshire, England
Marriage: 1899 Bourne District
Siblings: (Name), (DOB), (POB)
Leonard Brutnell Sandall, 1898, Thurlby
Edith Mary Brutnell, 1900, Thurlby
Francis Charles Brutnell, 1901, Thurlby
Richard Lewis Brutnell, 1904, Thurlby
Jessie Irena Brutnell, 1906, Thurlby
Florence Lena Brutnell, 1909, Thurlby
Census
1901: Leonard is living with his parents in the High Street, Thurlby, Lincolnshire.
1911: Leonard is living with his grandmother Martha Sandall at Thurlby, Lincolnshire. The census gives him an age of 13 and he is listed as bring at school.
Marriage
No marriage for Leonard has been found and because of his age we can assume that he never had the opportunity to marry.
Newspaper Mentions
The Times Thursday 5th March 1917
ROLL OF HONOUR
LISTS OF 900 NAMES.
All are privates, except where otherwise shown.  The town shown against each soldier's nme is the home of his next-of-kin, except when followed by the abbreviation "Enlt.," when it is his place of enlistment.
KILLED
YORK. R. – Brutnell, 41595 L. (Thurlby)
Lincolnshire Free Press Tuesday 27th March 1917
Thurlby
Born Thurlby and enlisted Bourne, Lincs. Pte. Leonard Brutnell, of Thurlby near Bourne, was wounded early in February by a shell, and died on the 7th of that month. He was a very young soldier, having celebrated his 19th birthday on the first day of this year. He entered the Army in October 1916, joining the Hussars, and after two months training was transferred to the Yorks, proceeded to the Front in December.
Soldier's Died In The Great War
These records show thatPrivate Leonard Brutnell, 41595, 9th Bn Yorkshire Hussars (Alexnadra, Princes of Wales' Own) Regiment was killed in action on 7th February 1917 in the Western European Theatre in France and Flanders.
Pension Records
Effects Left To
Medals
The British Medal
The Victory Medal
Memorials
UK:
Thurlby, Roll of Honour in St Firmins Church
Commonwealth War Graves Commission:
In memory of Private Leonard Brutnell, 41595, 9th Bn., Yorkshire Regiment who died on 7 February 1917 Age 19
Son of John Richard and Mary J Brutnell, of High St., Thurlby, Bourne, Lincs.
Remembered with honour, Lijssenthoek Military Cemetery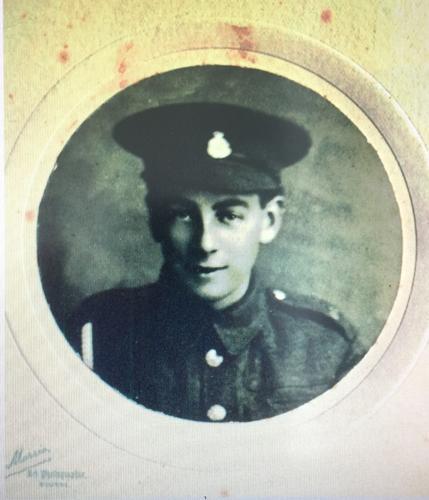 Taken while visiting Lijssenthork Military Cemetery Visitors Centre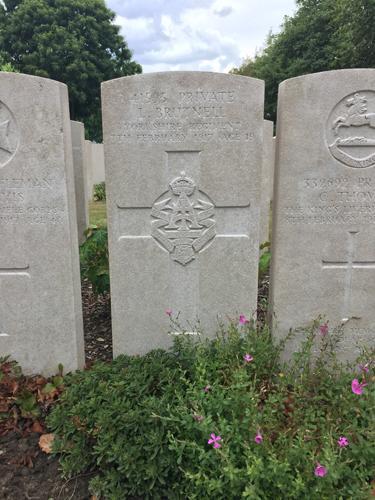 © Picture taken by South Lincolnshire War Memorials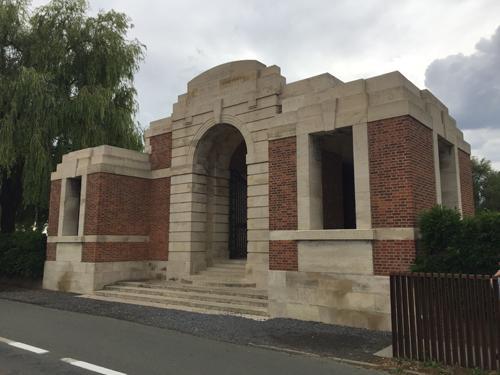 © Picture taken by South Lincolnshire War Memorials
Military Service Timeline
Enlisted in Bourne
Died of wounds
This is ongoing research and will be posted when completed
Sources
WW1 Soldier's Records (www.ancestry.co.uk)
Lijssenthork Military Cemetery Visitors centre
Commonwealth War Graves Commission