Biography of Private Charles Henry Randall (64200)
16th Battalion Cheshire Regiment
Formerly M2/180962, R.A.S.C
Died 4th April 1918
Soldier
Name: Charles Henry Randall
Date of birth: 1890
Place of Birth: Darnall, Sheffield, Yorkshire, England
Date of Birth Registration: July – September 1890
Place of Birth Registration: Sheffield, Yorkshire, England
Father
Name: Charles Randall
DOB: 1866
Place of Birth: Freiston, Lincolnshire, England
Occupation: Carpenter
Mother
Name: Lydia Mary Knipe
DOB: 1869
Place Of Birth: Thurlby, Lincolnshire, England
Marriage: 1887 Bourne District
Siblings: (Name), (DOB), (POB)
Charles Henry Randall, 1890, Darnall, Sheffield
Ethel L Randall, 1893, Freiston (Died 1909)
Maud Eveline Randall, 1894, Freiston
William Leonard Randall, 1895, Freiston
James Randall, 1896, Freiston (Died 1887)
Anthony Randall, 1899, Freiston (Died 1899)
Lizzie Mary Randall, 1902, Thurlby
Lucy May Randall, 1905, Thurlby
Plus 1 more whose name is unknown taken from the 1911 census
Census
1891: Harry is living with his parents in his grandfather's house at Freiston, Lincolnshire
1901: Harry is living with his parents at Thurlby, Lincolnshire
1911: Harry is living with his parents in Thurlby, Lincolnshire. The census gives him an age of 20 and he is listed as at home assisting father.
Relatives in services
Charles's brother William Leonard also fought and were killed in WW1. William can be found on our page dedicated to the Thurlby War Memorial.
Marriage
No marriage for Charles has been found and because of his age we can assume that he never had the opportunity to marry.
Soldier's Died In The Great War
These records show that Private Charles Henry Randall, 64200, 16th Bn Cheshire Regiment was killed in action on 4th April 1918 in the Western European Theatre in France and Flanders.
Pension Records
Effects Left To
Medals
The British Medal
The Victory Medal
Memorials
UK:
Thurlby, Roll of Honour in St Firmin's Church
Commonwealth War Graves Commission:
In memory of Private Charles Henry Randall, 64200, 16th Battalion, Cheshire Regiment who died on 4 April 1918
Remembered with honour, Pozieres Memorial.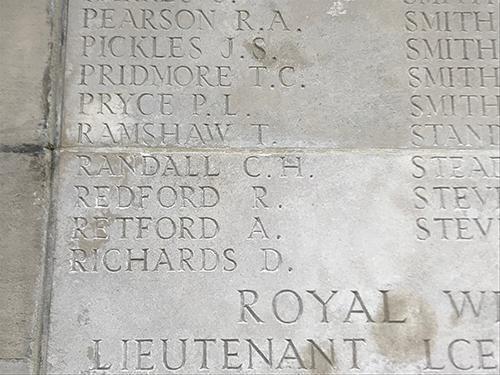 © Picture taken by South Lincolnshire War Memorials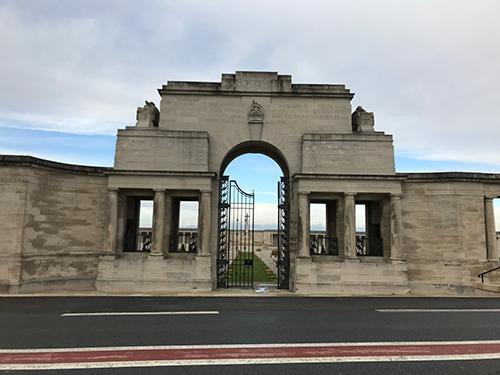 © Picture taken by South Lincolnshire War Memorials
Military Service Timeline
At the age of 25, Harry enlisted on the 21st February 1916 in Bourne and after being mobilised on the 15th May 1916 his first posting was to the Mechanical Transport Department of the Army Service Corps.

On his attestation papers he listed his occupation as a Wheelwright, no doubt this was the deciding factor in his posting to Motor Transport.

On the 19th May 1916 Harry Joined At the Army Service Corps, Reserve Depot at Grove Park, Lewisham.

From here we can see Harry's journey in the entries of his military records.

3.2.17 – Transferred to Infantry (61st Res Battalion), Abergele.

4.2.17 – Compulsorily transferred as above, retains form rate of pay.

No doubt this transfer was in light of the need for extra infantry and so they took men from other services to retrain.

9.3.17 – Posted Pte to 58th Training Res Bn

11.7.17 – Transferred to 3rd Bn Cheshire Regt

Jul 1917 – 3rd Cheshire posted Pte

On the 18th October 1917, Harry embarked for France.

19.10.17 – Posted to British Expeditionary Force

19.10.17 – Posted 9th Battalion – Rouen

25.10.17 – Posted & proceeded 16th Battalion – Field

In early 1918 the 16th battalion had been Belgium around the Poelcappelle area and in and out of training.

8.2.18 – 16th Battalion Cheshire Regiment was disbanded and the men moved into Surplus Wing to be reassigned into other Battalions and Regiments.

22.2.18 – Attd 12th (Duty?) Bn

4.4.18 – Reported missing

"Posted 1/5th", this is a note on his records after reported missing.

In another on-line document with regards to the British Army Daily Reports (missing dead, wounded and POWs) it lists his tertiary unit as, attached 7th Queen's Own Royal West Kent Regiment.

The 7th West Kents were certainly in the correct area of the Somme and also were part of a defence that folded on the 4th April near Villers-Bretonneux after an intense artillery bombardment, followed by an attack of 2 divisions of assault troops that broke through the lines.

Although records we have seen cannot confirm this, we feel that Harry was most likely killed in this "Battle of the Avre" whilst assigned to the 7th Battalion West Kents.
This is ongoing research and will be posted when completed
Sources
WW1 Soldier's Records (www.ancestry.co.uk)
Commonwealth War Graves Commission