Biography of Private John Thomas Wyer, (27171)
8th Battalion King's Own (Royal Lancaster Regiment)
Died 13th April 1918
Soldier
Name: John Thomas Wyer
Date of birth: 1883
Place of Birth: Kirkby Underwood, Lincolnshire, England
Date of Birth registration: July – September 1883
Place of Birth Registration: Bourne, Lincolnshire, England
Father
Name: Thomas Wyer
DOB: 1852
Place of Birth: Kirkby Underwood, Lincolnshire, England
Occupation: Labourer and Parish Clerk
Mother
Name: Mary Ann Marshall
DOB:1858
Place Of Birth: Rippingale, Lincolnshire, England
Marriage: 1880 Bourne District
Siblings: (Name), (DOB), (POB)
Edith Annie Wyer, 1881, Kirkby Underwood
John Thomas Wyer, 1883, Kirkby Underwood
Edmund Ernest Wyer, 1886, Kirkby Underwood
Frederick William Wyer, 1888, Kirkby Underwood
Jessie Estella Wyer, 1889, Kirkby Underwood
Frederick Stanley Wyer, 1897, Kirkby Underwood
Albert Edward Wyer, 1901, Kirkby Underwood
Census
1891: John is living with his grandparents John and Caroline Marshall in Kirkby Underwood, Lincolnshire
1901: John is living in Aslackby with the Bailey Family as a Servant. The census gives him an age of 18 and he is listed as a Waggoner on farm.
1911: John is living in Folkingham with the Stancer Family as a Servant. The census gives him an age of 27 and he is listed as a Farm Waggoner.
Marriage
No marriage for John has been found and because of his age we can assume that he never had the opportunity to marry.
Newspaper Mentions
Grantham Journal Saturday 12th April 1919
WYER – In loving memory of our dear son and brother, Pte. John Tom Wyer (27171 King's Own R.L.), missing 13th April, 1918, France.
We do not forget him, we loved him too dearly
For his memory to fade from our lives like a dream;
Our lips need not speak when our hearts mourn sincerely,
For grief often dwells where it seldom is seen.
From his sorrowing Father, Mother, Brothers, Sisters, Aunt Florrie (Kirkby)
Soldier's Died In The Great War
These records show that Private John Thomas Wyer, 27171, 8

th

 Battalion King's Own (Royal Lancaster Regiment) was killed in action on 13

th 

April 1918 in the Western European Theatre in France and Flanders.
Medals
The British Medal
The Victory Medal
Memorials
UK:
Kirkby Underwood, plaque in St Mary and All Saints Church
Kirkby Underwood, Names on the stained glass window in St Mary and All Saints Church
Commonwealth War Graves Commission:
In memory of Private John Thomas Wyer, 27171, 8th Battalion, King's Own (Royal Lancaster Regiment) who died on 13 April 1918 Age 35.
Son of Thomas and Mary Ann Wyer, of Kirkby Underwood, Bourne, Lincs.
Remembered with honour, Ploegsteert Memorial.
Panel Ref: Panel 2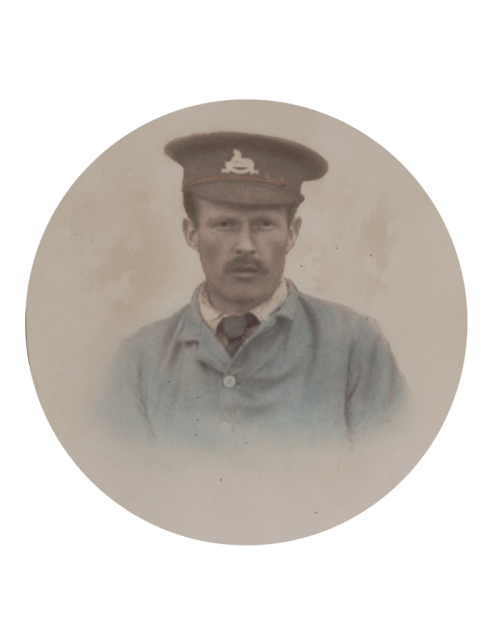 © Picture courtesy of Ernie Wyer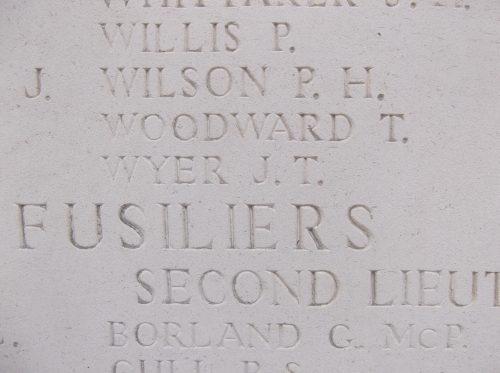 © Picture taken by South Lincolnshire War Memorials
© Picture taken by South Lincolnshire War Memorials
Military Service Timeline:
The following notes are formed from dates taken from the Military Service records of John Thomas Wyer and also from the Unit War Diaries for the 8th Bn Kings Own Lancaster Regiment:-
19.4. 1916 – Attested to 9

th

Battalion Lincolnshire Regiment
20.4.1916 – Medical examination at Lincoln
21.4.1916 – Approved in 9

th

Battalion Lincolnshire Regiment
29.8.1916 – Posted to Infantry base deport
28.8.1916 – Embarked for France
20.9.1916 – Transferred to service with 8

th

King's Own Lancaster Regiment
22.9.1916 – Joined D coy, 8

th

Battalion in the field
15.10.1916 – Wounded in action, Gun Shot Wound to the leg whilst carrying out carrying and working party duties at night
Unit war diary for the 16

th

October shown many casualties during the night when Billeted at Bertrancourt and performing working party duties at night
21.10.1916 – Classed Fit for duty
22.10.1916 – Rejoined Battalion in the field
18.12.1916 – Posted sick with Inflammation of the Connective Tissue of Foot and sent to hospital
ICT was a catch-all abbreviation for any soft tissue damage including trench foot.
2.1.1917 – Problem with ICT of Large toe on left foot
6.1.1917 – Posted to UK to Hospital (St Patrick)
7.1.1917 – Arrived UK and moved to Western General Hospital, Fazakerley, Liverpool
14.4.1917 – Left Hospital after 94 days
25.4.1917 – Classed as "Class II", Fit for Light Duties. Posted to depot
17.5.1917 – Posted
10.6.1917 – Returned to France to the 8

th

Battalion Kings Own Royal Lancashire
29.6.1917– Rejoined Battalion
11.4.1918 – Battalion moved to the Avelette Bridgehead near Hinges north of Bethune
Unit diary and trench maps are available for John Thomas Wyer's last action before being killed.
13.4.1918 – Reported missing in action after 2 days of engagement with the enemy at the Bridgehead. In total, between the 12

th

and 14

th

April, the Battalion suffered 156 casualties of which 27 were killed on the 13th
4.1.1919 – Thomas Wyer in receipt of the British War Medal and also the Victory Medal for his son
24.7.1919 – Memorandum to OC Infantry, Preston stating that any personal belongings should be forwarded to Thomas Wyer of Kirkby Underwood, Bourne, Lincolnshire