Biography of Lance Corporal Robert Wand (9010)
6th Battalion Lincolnshire Regiment
Died 14th September 1916
Soldier
Name: Robert Wand
Date of birth: 1883
Place of Birth: Haconby, Lincolnshire, England
Date of Birth registration: July – September 1883
Place of Birth Registration: Bourne, Lincolnshire, England
Father
Name: Robert Wand
DOB: 1841
Place of Birth: Rippingale, Lincolnshire, England
Occupation: Farm labourer
Mother
Name: Sarah Ann Ellis
DOB: 1847
Place Of Birth: Haconby, Lincolnshire, England
Marriage:1865 Bourne District
Siblings: (Name), (DOB), (POB)
Elizabeth E Wand, 1869, Haconby
John Joseph Wand, 1872, Haconby
Thomas E Wand, 1876, Haconby
Harry Wand, 1878, Haconby
Edward Wand, 1880, Haconby
Robert Wand, 1883, Haconby
Eliza Wand, 1887, Haconby
Plus 5 more which name are unknown taken from 1911 census
Census
1891: Robert is living with his parents in Haconby.
1901: Robert is living with his parents in Haconby.
1911: Robert is living in Dunsby with Martin Family as a Servant. The census gives him an age of 26 and he is listed as a farm wagnor.
Relatives in services
Robert's cousins Tom Hutchins and Edward Ellis also fought and were killed in WW1. Tom and Edward can be found on our page dedicated to the Haconby War Memorial.
His nephew Thomas Wand who also fought and was killed in WW1. Thomas can be found on his page dedicated to the Dunsby War Memorial.
Marriage
No marriage for Robert has been found and because of his age we can assume that he never had the opportunity to marry.
Newspaper Mentions
Grantham Journal Saturday 3rd October 1914
MORTON
KITCHENER'S ARMY – Nine men have volunteered from these parishes, viz., Hacconby, Robert Wand, Robert Wilson Wyer, Edmund Wyer, William Wyer, Jack Healey; Morton, Fisher Handford, William Holmes, George Smith, John Ashton. We trust that others will be actuated by their splendid examples and follow suit.
Grantham Journal Saturday 7th October 1916
HACONBY
MEMORIAL SERVICE – On Sunday afternoon, the parishioners again assembled in their parish church to pay tribute to the memory of another of of their gallant soldiers, Robert Wand, recently killed in action. The Church was well filled, and the service was most impressive. The organist, Mr J.W. Palmer played "O Rest in the Lord," and at the conclusion "Blest are the departed." The service was conducted by the vicar Rev. J.H. Boldero, and Mr E.C. Griffith, who was staying at the Hall for the week-end read the special lessons. The vicar spoke comforting words to the relatives of the deceased, and urged upon his hearers to follow his example and prove themselves good soldiers of Christ by fighting against the common enemy with all their might. A muffled peal was afterwards rung to the memory of the dead soldier, who, before joining the army, was a ringer and a member of the choir.
Soldier's Died In The Great War
These records show that Lance Corporal Robert Wand, 9010, 6th Battalion Lincolnshire Regiment was killed in action on 14th September 1916 in the Western European Theatre in France and Flanders.
Medals
The British Medal
The Victory Medal
The 15 Star
Memorials
UK:
Haconby, plaque in St Andrew's Church
Commonwealth War Graves Commission:
In Memory of Lance Corporal R Wand, 9010, 6th Battalion Lincolnshire Regiment who died on 14 September 1916.
Remembered with Honour Ovillers Military Cemetery
Grave Ref: I. A. 12.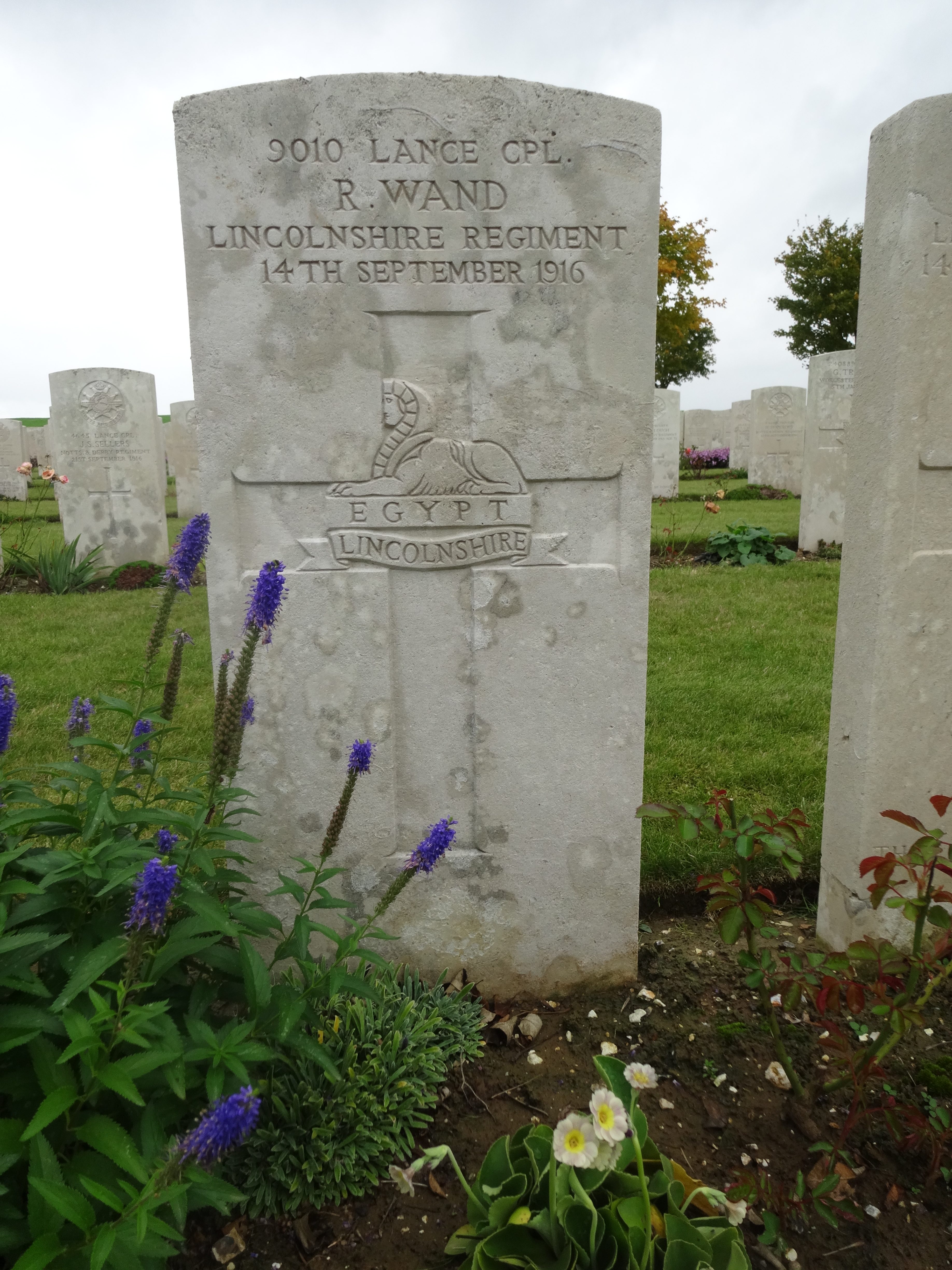 © Picture taken by South Lincolnshire War Memorials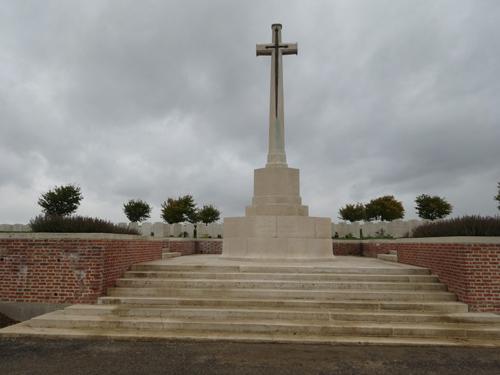 © Picture taken by South Lincolnshire War Memorials
Military Service Timeline: