Biography of Serjeant Charles Herbert Cooper (1076)
10th Battalion Lincolnshire Regiment
Died 22nd March 1918
Soldier
Name: Charles Herbert Cooper
Date of birth: 1892
Place of Birth: Edenham, Lincolnshire, England
Date of Birth Registration: October – December 1892
Place of Birth Registration: Bourne, Lincolnshire, England
Father
Name: James William Cooper
DOB: 1857
Place of Birth: Edenham, Lincolnshire, England
Occupation: Woodman in Woods
Mother
Name: Elizabeth Eleanor Crowson
DOB: 1865
Place Of Birth: Blatherwycke, Northamptonshire, England
Marriage: 17th June 1886 St Marylebone Westminster, England
Siblings: (Name), (DOB), (POB)
Elsie Mary Cooper, 1888, Edenham
William Sydney Cooper, 1891, Edenham
Charles Herbert Cooper, 1892, Edenham
Margaret Alice Cooper, 1898, Edenham
Eleanor Marion Cooper, 1904, Edenham
George Ronald Cooper, 1907, Edenham
Frederick Gordon Cooper, 1910, Edenham
Census
1901: Charles is living with his parents in the Main Road, Edenham, Lincolnshire
1911: Charles is living with his parents in Edenham, Lincolnshire. The census gives him an age of 18 and listed as a gamekeeper.
Wife
Name: Frances Mildred Reed
Date of birth: 6th December 1892
Place of Birth: Towcester, Northamptonshire, England
Marriage
Date of Marriage: 20 October 1917
Place of Marriage: Edenham Church, Edenham, Lincolnshire
Wife's parents
Father: Montague Reed
Mother: Ellen Matilda Bliss
Soldier's Died In The Great War
These records show that Serjeant Charles Herbert Cooper, 1076, 10th Bn Lincolnshire Regiment was killed in action on 22nd March 1918 in the Western European Theatre in France and Flanders.
Medals
The British Medal
The Victory Medal
Memorials
Commonwealth War Graves Commission:
In memory of Serjeant Charles Herbert Cooper, 1076, 10th Battalion, Lincolnshire Regiment who died on 22nd March 1918 age 25.
Son of William and Eleanor Cooper; husband of Frances Mildred Cooper, of Edenham, Bourne
.Remembered with honour, Arras Memorial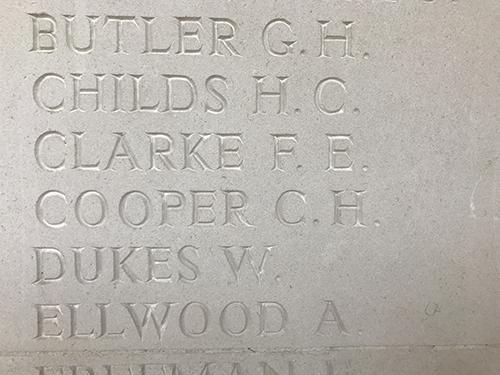 © Picture taken by South Lincolnshire War Memorials

© Picture taken by South Lincolnshire War Memorials
Military Service Timeline
This is ongoing research and will be posted when completed
Sources
WW1 Soldier's Records (www.ancestry.co.uk)
Commonwealth War Graves Commission