Biography of Private William Elfleet Close (31105)
5th Battalion Royal Inniskilling Rifles
Formerly 22780 Northamptonshire Regiment
Died 9th October 1918
Soldier
Name: William Elfleet Close
Date of birth: 1881
Place of Birth: Edenham, Lincolnshire, England
Date of Birth Registration: July – September 1881
Place of Birth Registration: Bourne, Lincolnshire, England
Father
Name: Thomas Close
DOB: 1849
Place of Birth: Colly Weston, Northamptonshire, England
Occupation: Farmer
Mother
Name: Catherine Elfleet
DOB: 1853
Place Of Birth: Bourne, Lincolnshire, England
Marriage: 24th May 1877 Bourne, Lincolnshire, England
Siblings: (Name), (DOB), (POB)
Arthur Thomas Elfleet Close, 1878, Stamford
Evelyn Mary Catherine Close, 1879, Easton
Charlotte Augusta Close, 1880, Easton
William Elfleet Close, 1881, Edenham
Mary Close, 1883, Edenham
Census
1891: William is living with his parents in Edenham, Lincolnshire.
1901: William is living with the Harriman family at Campbell Steet, Heanor, Derbyshire. The census gives him an age of 19 and he is listed as a grocer assistant.
1911: William can not be found as of yet.
Marriage
No marriage for William has been found and we can assume that he never had the opportunity to marry.
Soldier's Died In The Great War
These records show that Private William Elfleet Close, 31105, 5th Bn Royal Inniskilling Fusiliers Regiment was killed in action on 9th October 1918 in the Western European Theatre in France and Flanders.
Pension Records
Effects Left To
Medals
The British Medal
The Victory Medal
Memorials
UK:
Bourne, Roll of Honour in Bourne Abbey Church

Bourne War Memorial in the Memorial Gardens
Commonwealth War Graves Commission:
In memory of Private William Elfleet Close, 31105, 5th Bn., Royal Inniskilling Fusiliers Regiment who died on 9 October 1918 Age 37
Son of Thomas and Catherine Close, of 3, Elm Terrace, North Rd., Bourne, Lincs
Remembered with honour, St Sever Cemetery Extension, Rouen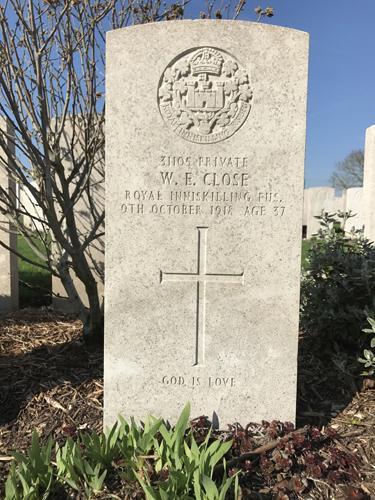 © Picture taken by South Lincolnshire War Memorials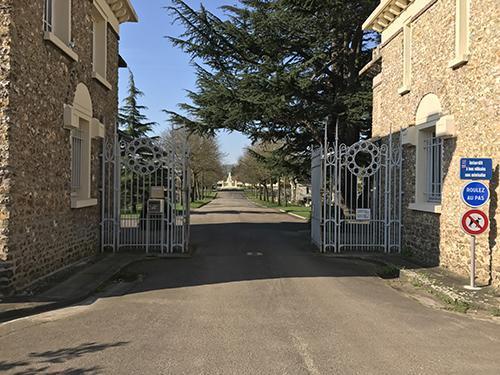 © Picture taken by South Lincolnshire War Memorials
Military Service Timeline
This is ongoing research and will be posted when completed
Sources
WW1 Soldier's Records (www.ancestry.co.uk)
Commonwealth War Graves Commission