Biography of 2nd Lieutenant Thomas Lancelot Lloyd
3rd Battalion Cavalry Regiment
Died 8th April 1919
Soldier
Name: Thomas Lancelot Lloyd
Date of birth: 1893
Place of Birth: Witham on the Hill, Lincolnshire, England
Date of Birth Registration: July – September 1893
Place of Birth Registration: Bourne, Lincolnshire, England
Father
Name: John William Lloyd
DOB: 1854
Place of Birth: Witham on the Hill, Lincolnshire, England
Occupation: Farmer
Mother
Name: Susannah Marian Sharp
DOB: 1863
Place Of Birth: Counthorpe, Lincolnshire, England
Marriage: 1888 Bourne District
Siblings: (Name), (DOB), (POB)
Edward Kynaston Lloyd, 1889, Witham on the Hill
John Henry Raymond Lloyd, 1891, Witham on the Hill
Thomas Lancelot Lloyd, 1893, Witham on the Hill
Cedric William Lloyd, 1895, Witham on the Hill
Mary Ann Lloyd, 1898, Witham on the Hill
Charles Kyneston Lloyd, 1904, Swayfield
Census
1901: Thomas is living with his parents in Witham on the Hill, Lincolnshire.
1911: Thomas is living with his parnets in West Street, Bourne, Lincolnshire. The census gives him an age of 17 and he is listed as an ironmonger assistant.
Relatives in services
Thomas' brother Cedric William also fought in ww1.
Marriage
No marriage for Thomas has been found and because of his age we can assume that he never had the opportunity to marry.
Newspaper Mentions
Grantham Journal Saturday 12th April 1919
BOURNE
THE DEATH of Second-Lieut. Lancelot Lloyd, second son of the late Mr. J. W. Lloyd and Mrs. Lloyd, Of  West Villas, Bourne, and formerly of Witham-on-the-Hill, occurred on Tuesday.  Deceased had served in the Army from the outbreak of war, and by his excellent character and ability gained his promotion.  He came home about a fortnight gae on leave, and after a few days at home was taken ill.  Medical aid was at once sommoned, but the illness developed into acute pneumonia, to which deceased succumbed.  He was only 25 years of age, and was of fine physique.  He commenced life as an apprentice to the ironmongery with Messrs. Foley and Butler, and subsequently went to Mr. Cartwright, of Sleaford.  The deepest sympthy is expressed on all hands for the bereaved mother and family.
Grantham Journal Saturday 19th April 1919
BOURNE
THE FUNERAL took place on Friday week, at Bourne Cemetery, of Lieut. T. L. Lloyd, whose sudden death from pneumonia we recorded last week. The first portion of the service was held in the Abbey Church, conducted by the Rev. H. Cotton Smith, Vicar, and the Rev. L. H. Cooley, Vicar of Witham-on-the-Hill.  The mourners included Capt. C. W. llloyd, who had obtained special leave from France.  The service was largely attended, those present including Major C. W. Bell, Capt. Bullock, Lieut. H. C. Tointon, Lieut. A. Galletly, Lieut. M. Bolt, 

Messrs J. J. Davies, T. Lake, T. B. Measures, J. B. Shilcock, T. Pick, and W. E. Metcalfe (Witham on the Hill), and a number of ladies.  Mr. W. R. Leary presided at the organ, and the service was choral.  The Psalm "Dixi Custodian" was read by the Vicar, the responses being by the congregation.  The lesson was read by Rev. L. H. Cooley, and as the cortege left the church, Mr. Leary played "O Rest in the Lord."  The coffin, which was of oak, with brass fittings, was covered with the Union Flag, and was borne by Sergeants F. J. Rosier, F. Ross, F. Boldock, G. W. Todd, J. Baldock, and W. E. Hare, whilst Mr. A. Wall acted as undertaker. The committal service at the cemetery was conducted by the Vicar.  There were a large number of floral tributes, including one from the officers of the 3rd Reserve Hussars, of which regiment deceased was an officer.  The officers also sent the family a telegram of condolence.
Soldier's Died In The Great War
Pension Records
Effects Left To
Mother Susannah Marian Lloyd
The President Mess Committee
Memorials
UK:
Bourne, Roll of Honour in Bourne Abbey Church

Bourne War Memorial in the Memorial Gardens
Commonwealth War Graves Commission:
In memory of Second Lieutenant Thomas Lancelot Lloyd, 3rd Bn., Reserve Cavalry Regiment who died on 8 April 1919 Age 25
Son of Mr. J. W. and Mrs. S. M. Lloyd, of West Rd., Bourne
Remembered with honour, Bourne Cemetery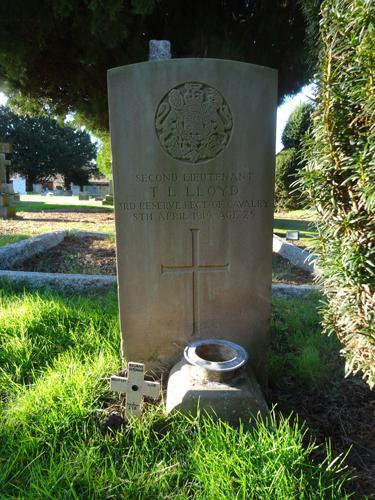 © Picture taken by South Lincolnshire War Memorials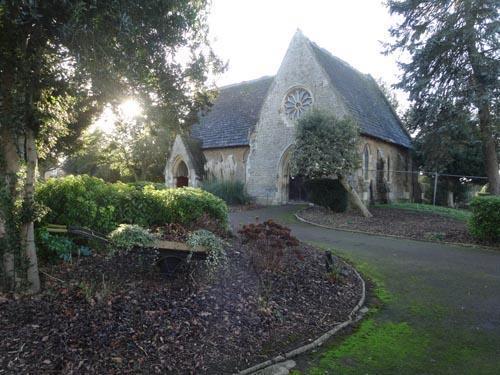 © Picture taken by South Lincolnshire War Memorials
Military Service Timeline
This is ongoing research and will be posted when completed
Sources
WW1 Soldier's Records (www.ancestry.co.uk)
Commonwealth War Graves Commission
British Newspaper Archive.