Biography of Private Ernest Cornelius Wass (16747)
1st Battalion Northamptonshire Regiment
Died 29th September 1915
Soldier
Name: Ernest Cornelius Wass
Date of birth: 7th June 1897
Place of Birth: Toft, Lincolnshire, England
Date of Birth Registration: April – June 1897
Place of Birth Registration: Bourne, Lincolnshire, England
Father
Name: Samuel Wass
DOB: 1858
Place of Birth: Toft, Lincolnshire, England
Occupation: Labourer (farmer)
Mother
Name: Emma Hodgkin
DOB: 1859
Place Of Birth: Bourne, Lincolnshire, England
Marriage: 1891 Bourne District
Siblings: (Name), (DOB), (POB)
Arthur Hodgkin, 1890, Bourne
GertrudeWass, 1892, Toft
Hannah Wass, 1893, Manthorpe
Charlotte Wass, 1895, Toft (died 1898)
Ernest Cornelius Wass, 1897, Toft
Rebecca Wass, 1900, Kates Bridge
Census
1901: Ernest is living with his parents at Kates Bridge, Lincolnshire.
1911: Ernest is living with his parents at 1 Doctors Yard, North Street, Bourne, Lincolnshire. The census gives him an age of 15.
Marriage
No marriage for Ernest has been found and because of his age we can assume that he never had the opportunity to marry.
Newspaper Mentions
Grantham Journal Saturday 9th October 1915
BOURNE
KILLED IN ACTION – News has this week been received that Pte. E. Wass has been killed in action in France.  He was the son of Mr. and Mrs. George Wass, North Street, and joining the Northants Regiment at the outbreak of the war, had been on active service since last spring.  Deceased was 19 years of age.
Grantham Journal Saturday 16th October 1915
BOURNE
MEMORIAL SERVICE. – On Sunday evening, a memorial service for Pte. E. C. Wass, whose death we reported in last week's issue, was held in the Congregational Church.   Up to the time of his leaving Bourne, deceased was a scholar in the Congregational School, and as such was one of the recipients of a parcel of chocolates and cigarettes from the Sunday School anniversary in July.  The service, which was held at the request of the deceased's parents, was conducted by the Rev. J. Comyn Jones (pastor), and was attended by the members of the family, which included Pre. Orrey, brother-in-law of deceased, who was home for a few days leave.  A similar service was held at the Parish Church, conducted by the Vicar, the Rev. H. Cotton Smith.
Soldier's Died In The Great War
These records show that Privte Ernest Cornelius Wass, 16747, 1st Bn Northamptonshire Regiment was killed in action on 29th September 1915 in the Western European Theatre in France and Flanders.
Pension Records
Effects Left To
Medals
The British Medal
The Victory Medal
The 15 Star
Memorials
UK:
Bourne, Roll of Honour in Bourne Abbey Church

Bourne War Memorial in the Memorial Gardens
Commonwealth War Graves Commission:
In memory of Private E Wass, 16747, 1st Bn., Northamptonshire Regiment who died on 29 September 1915
Remembered with honour, Abbeville Cummunal Cemetery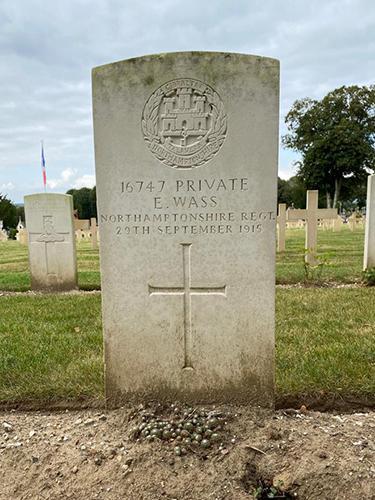 © Picture taken by South Lincolnshire War Memorials
© Picture taken by South Lincolnshire War Memorials
Military Service Timeline
This is ongoing research and will be posted when completed
Sources
WW1 Soldier's Records (www.ancestry.co.uk)
Commonwealth War Graves Commission
British Newspaper Archive.