Biography of Private George Jervis Dudley (9627)
2nd Battalion Yorkshire Regiment
Died 13th March 1915
Soldier
Name: George Jervis M Dudley
Date of birth: 1885
Place of Birth: Billingborough, Lincolnshire, England
Date of Birth Registration: April – June 1885
Place of Birth Registration: Bourne, Lincolnshire, England
Father
Name: George Dudley
DOB: 1846
Place of Birth: Crowland, Lincolnshire, England
Occupation: Butcher
Mother
Name: Mary Ann Maples
DOB: 1854
Place Of Birth: Billingborough, Lincolnshire, England
Marriage: 1876 Sleaford District
Siblings: (Name), (DOB), (POB)
Mary Elizabeth Dudley, 1877, Sutton St Edmonds
Fanny Jane Dudley, 1878, Billingborough
John Thomas Dudley, 1880, Billingborough
John William Dudley, 1882, Billingborough
George Jervis M Dudley, 1885, Billingborough
Charles Edward Dudley, 1887, Billingborough
Rosanna Dudley, 1889, Billingborough
Lucy Edith Dudley, 1891, Billingborough
Harriett Ellen Dudley, 1895, Billingborough
Alfred Ernest Dudley, 1896, Billingborough
Census
1891: George is living with his parents at 70 High Street, Billingborough, Lincolnshire
1901: George is living with the Pollard family in Walcot, Lincolnshire.
1911: George is living with his regiment the 1st Yorkshire in

Africa. 

The census gives him an age of 25 and he is listed as a private.
Marriage
No marriage for George has been found and we can assume that he never had the opportunity to marry.
Newspaper Mentions
Grantham Journal Saturday 30th January 1915
A LETTER FROM THE TRENCHES – Private George Dudley, of the York and Lancaster Regiment, who has been at the front for some time, has written home to his parents at Billingborough. In his letter he says: I hope you are having better weather than we are. It rains practically every day; I dont know whether it is the big guns that brings it down or not; but it is most persistent. Our trenches are up to the knees in water. I haven't been very wet up to the present; only my feet. We have opportunities however, for getting our boots and socks dry after we get out of the trenches, for we go to a house close by. You would be surprised to see all the beautiful houses that have gone to rack and ruin. It's a shame!  I don't know what the poor people will think when they come back again to see their places in this state.  I think you in England are very lucky not to have to go through what we are going through here. Nearly all last year's crops have still to be got and what corn was gathered near the trenches is taken for bedding for the troops.  No wonder bread is so dear.  I always think about home when I lay my head down on a sheaf of wheat.  The cattle in the fields make good targets for the Germans.  You can hear the poor things call out when they are hit.  I don't think this terrible war will go on much longer.  The Germans are getting beat all along the line and I hope we shall not be long before we are in Berlin.  Just now, however, we are having a quiet time."  Pte Dudley has sent home, for safe custody, Princess Mary's gifts, which reached him at Christmas. These are now on view in the shop window of Pte. Dudley's parents in High Street.
Grantham Journal Saturday 27th March 1915
KILLED IN ACTION – News reached Billingborough on Sunday, of the death of Lance-Corporal George Dudley, of the 2nd Yorkshire Regiment, a brief message being sent to the deceased's parents by a comrade.  On Tuesday, a further communication was received by Mrs. Dudley from Sergeant of his platoon.  In it he wrote: "No doubt by this time, you are aware of your son's death.  Previous to the fighting at Neuve Chapelle, he asked me to write to you if anything happened.  He fell with many others in the attack.  However, let it console you to know that he died as he would have wished – a hero's death.  I am enclosing two photos found in his pocket (one of his youngest sister, to whom he was very much attached).  Please accept my sympathy in your sad bereavement.  I feel his death very much, as he was a personal friend of mine, very sociable and willing and not afraid of any danger, whatever the cost.  Tell your daughter to bear up, as she had a brother to be proud of.   Remember the motto: 'He died that we might live.' "  Deceased, who was unmarried and was thirty years of age, was well known in Billingborough, where he worked with a building firm.  He was originally attached to the Scottish Borderers, and was for several years, with that regiment in Egypt.  At the outbreak of hostilities, he was transferred to the 2nd Yorkshire Regiment and had received his stripe since being in the trenches.  Sincere sympathy is expressed for the deceased's parents who not many months ago, mourned the loss of another son, who although succumbing to appendicitis, had his health impaired in the South African war; while a third boy, some years ago, was drowned (with an uncle) while bathing.
Soldier's Died In The Great War
These records show that Private George Dudley, 9627, 2nd Bn Yorkshire Hussars Regiment (Alexandra, Princes of Wales' Own) was killed in action on 13th March 1915 in the Western European Theatre in France and Flanders.
Pension Records
Effects Left To
Medals
The British Medal
The Victory Medal
The 14 Star
Memorials
Commonwealth War Graves Commission:
In memory of Private George Dudley, 9627, 2nd Bn., Yorkshire Regiment who died on 13 March 1915
Remembered with honour, Le Touret Memorial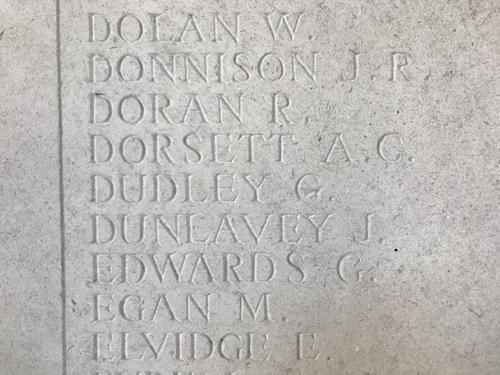 © Picture taken by South Lincolnshire War Memorials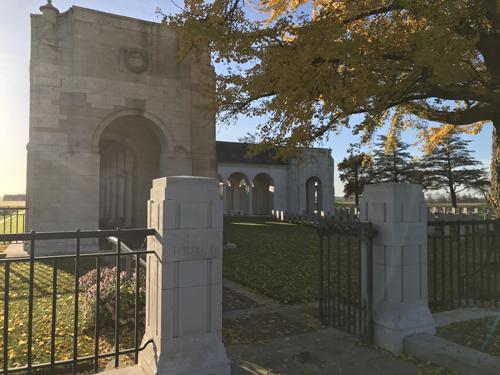 © Picture taken by South Lincolnshire War Memorials
Military Service Timeline
This is ongoing research and will be posted when completed
Sources
WW1 Soldier's Records (www.ancestry.co.uk)
Commonwealth War Graves Commission
British Newspaper Archive.